2000 morts, une Mère Paix et un journaliste bridé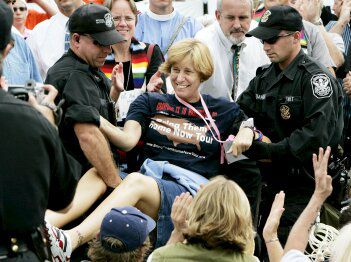 La guerre en Irak est toujours dans les esprits, bien que l'affaire Harriet Miers occupe la majeure place des colonnes dans les journaux. Mardi dernier, le compte (officiel) des soldats tombés au combat a passé la barre des 2000. A cette occasion, Peace Mum, Cindy Sheehan (dont je vous ai déjà parlé) a décidé de s'enchaîner aux grilles de la Maison Blanche. Comme lors de la précédente manifestation anti-guerre, elle s'est faite arrêter. Le sourire aux lèvres. La Tribune de Genève en parle très bien, petit clic ici.

Mais la guerre est aussi dans les esprits pour une autre raison. Plus insidieuse. Et moins diffusée dans les médias que les images de Cindy Sheehan. Après tout, le nom de Tim Mahoney ne vous dit rien. Et pourtant cet homme était dans les rangs de la même manifestation que Peace Mum, le samedi 24 septembre dernier. Le problème, c'est qu'il est journaliste. Pourquoi est-ce un problème ? Je vous renvoie la question. Apparemment, cela en pose un sérieux à son journal, le St Paul Pioneer Press qui l'a suspendu 3 jours sans paie pour avoir assisté à cette manifestation.
L'article que je copie ci-dessous a été publié sur Citypages.com. Il explique que le journaliste est venu à DC par l'un des trois bus affrétés par une organisation catholique de Minneapolis. « Ce n'était qu'une marche silencieuse autour de la Maison Blanche , point barre », se défend-il. Sur le coup, ses supérieurs s'interrogent sur l'aspect éthique de la chose. Mais surtout, le journaliste (à temps partiel) manque à l'appel alors qu'il y a besoin d'aide pour couvrir les sujets autour des ouragans qui font rage dans le Sud du pays. La nouvelle ne lui est arrivée que cette semaine qu'il était suspendu trois jours, sans recevoir de paie. Et qu'il ne pourrait plus écrire sur des sujets liés à l'Irak et à l'invasion américaine.
Conclusion du papier : tout le monde dans les newsrooms a une opinion. Certes, et c'est très bien. Je n'ai pas eu vent que ce journaliste ait écrit des tribunes contre la guerre. Et même s'il l'avait fait, il n'aurait pas été le seul. Surtout tout dépend si son papier (imaginaire !) était paru en tant qu'opinion ou en tant que faits purs et durs. Bref, revenons aux faits : assister à cette manifestation faisait partie de la sphère privée de son existence. S'il n'a pas commis de faute professionnelle, je ne comprends pas la raison d'une telle remise en place. Enfin si, il en a commis une : il n'était pas disponible ce week-end là...

M.S.
No peace at the Pioneer Press
Casualty of War
Pioneer Press copy editor Tim Mahoney was suspended for three days without pay for attending a peace march
by Paul Demko
October 26, 2005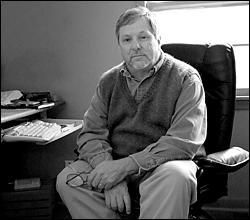 On the last Saturday of September, Tim Mahoney, a part-time copy editor with the St. Paul Pioneer Press, attended a peace rally in Washington, D.C. He traveled on one of three buses organized by St. Joan of Arc Church , a Catholic parish in Minneapolis where he is an active member. The demonstration, which attracted upward of 100,000 people to the nation's capitol, was one of the largest such gatherings since the invasion of in March 2003.
"On our part it was a silent march," recalls Mahoney, who has worked at the Pioneer Press for five years, following similar stints at the San Francisco Chronicle and the Capitol Times in Madison, Wisconsin . "We just marched around the White House, period."
While Mahoney was on the bus trip, a Pioneer Press editor called his home to find out if he was available to work that weekend. Hurricane Rita had just touched down on the Texas-Louisiana border and extra bodies were needed on the copy desk.
Upon learning that Mahoney had participated in the Washington peace march, some unnamed editor in the Pi Press chain of command launched an internal investigation to determine whether such activities constituted a breach of the paper's ethics policy. Mahoney was interviewed about the trip by his immediate supervisor. "It was kind of a friendly interview, so I thought they would drop it," he says. "It didn't seem like much of a case to me."
Last week, however, Mahoney learned the outcome of the investigation: He was suspended from work for three days without pay. In addition, Mahoney was informed that he would no longer be allowed to edit any stories about the invasion and occupation of . It was also made clear, in a letter written by senior editor Mike Bulger, that participation in any similar political activities would result in his termination.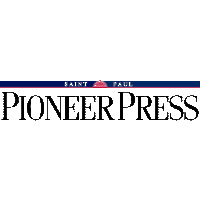 The decision has left Mahoney and many of his Pioneer Press colleagues flummoxed. "There is an issue of conscience, of religion," he says. "I'm not trying to put myself forth as any kind of pious person at all. I'm not. But it's a matter of personal belief. It seemed to me--and still does--completely harmless to the interests of the Pioneer Press."
Mahoney's personal knowledge of warfare makes the decision even more galling. He served as a rifleman in the Mekong Delta during the Vietnam War. "It's sort of where I learned that wars are not pretty and that you better be fighting for something worthwhile because a lot of very bad things happen," he says. "I learned that firsthand."
It is not the first time in recent memory that a Pioneer Press staffer has been disciplined for political activities that supposedly violated the newspaper's ethics policy. Last October, reporters Charles Laszewski and Rick Linsk were each suspended for three days for attending the "Vote for Change" concert featuring Bruce Springsteen and R.E.M., which raised money for John Kerry's presidential campaign.
The two reporters filed a grievance through their union, the Newspaper Guild, protesting the disciplinary action. According to Guild executive officer Mike Sweeney, that grievance has now been settled, but the terms are unknown because it is subject to a confidentiality agreement. "We have a tentative agreement," says Sweeney. "It hasn't been signed yet. The matter has been settled to the parties' mutual satisfaction."
Because the terms of that agreement are secret, it's not clear what kind of precedent it sets for Mahoney's situation. But the Newspaper Guild intends to file a grievance on his behalf this week. "He was exercising his beliefs--religious, as well as social and moral--and the paper is saying he can't do that," notes Sweeney. "And he's a part-time copy editor, for Christ's sake. I was speechless when I heard this."
Thom Fladung, who took over as editor of the St. Paul daily late last month, says he has no problem with staff members participating in peace marches. "The problem comes in when the employee doesn't communicate with us ahead of time. I have no intention of telling people what to do in their private lives." For his part, Mahoney questions the viability of an ethics policy that apparently mandates that Pioneer Press staffers somehow be devoid of any political beliefs. "There's a lot of bias in all newsrooms," he notes. "Everybody has an opinion."